Истинска спортна буря в зала "Младост" завърши с победа на отбор "ВИХЪР" - ПУ
04.10.2009
For a second year sport hall "Mladost" - Shumen was the place of hot sport competition organized for people with disabilities. The initiative under the motto "To Give a Hand for Hope" organized society "Zora Ray" was held with the support of the municipality of Shumen. The competitors were from the Boarding School "Vassil Drumev - Shumen, the Home for Adults with Mental Disabilities – Lozevo and Day Centre for Children and Adults with Disabilities "Sunbeam" - Shumen.
"... This is a true celebration in which we...
27.08.2009
At the entrance of the home we were greeted with great joy by the residents of the social institution. We knew many of them already from our previous meetings at our various events aimed at integrating people with special needs in public life. We knew that their joy was not related to the gifts that we brought, but largely to attention that they were receiving and fact that someone came specifically to see them.
While compiling an inventory of the objects and sanitation products from our donation, the director of the...

KARAOKE CONTEST "Together with the Song"
Posted: 2009-07-31 02:32:44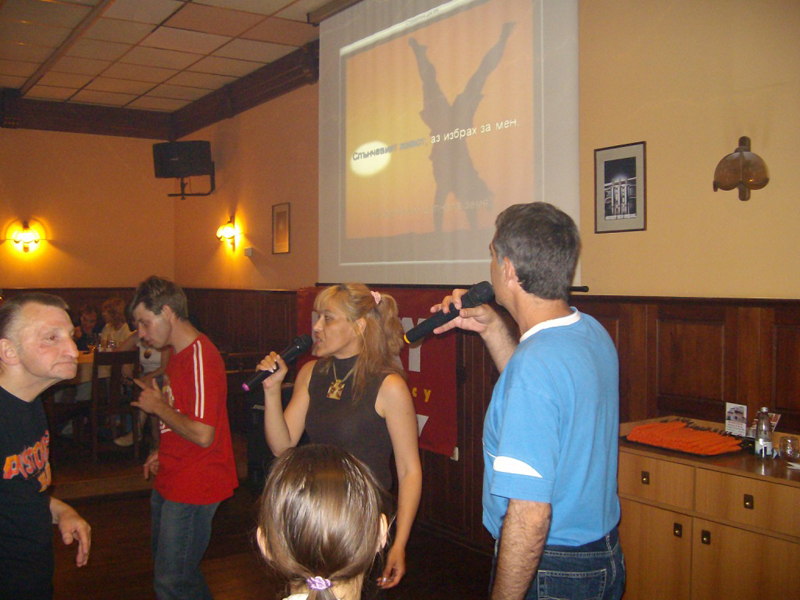 членове и приятели на сдружение "СИЯЙНА ЗОРА" заедно с домуващи от ДВУИ с. Лозево в Irish pub, гр....
06/22/2009
The initiative which was conducted with the support of the municipality of Shumen, was to reated to our goal each month to organize at least one event for the people from Lozevo.
The idea is not to interrupt the lines of communication with people from the home. This communication gives colour to the lives of people with intellectual disabilities, and offers valuable lessons in humanity and tolerance - the real and valuable things in life.
We found understanding and willingness to help in the person of Mrs. Magdalena Valchanova - manager of the...
Day Care Center "Sunbeam" Shumen at 10
Posted: 2009-07-31 02:26:45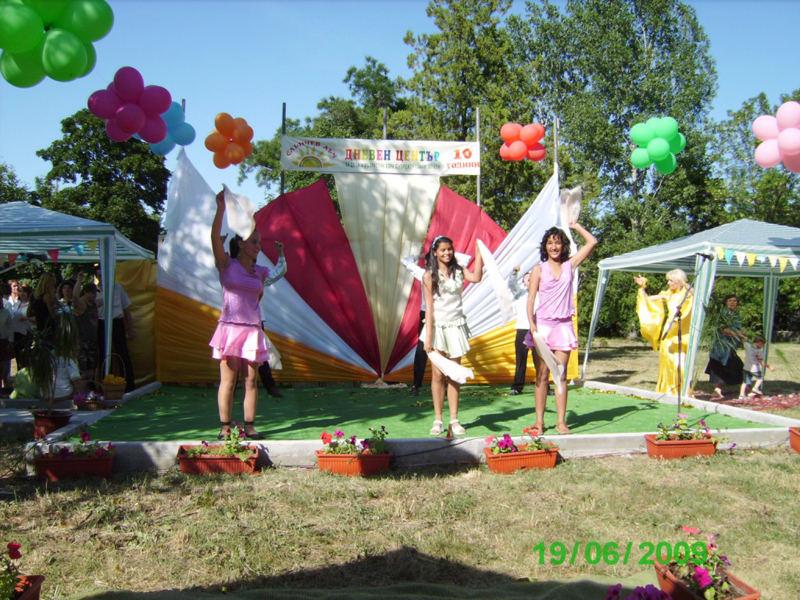 Дневен център за деца и възрастни хора с увреждания
19.06.2009
With a garden party and many guests the Day Centre for Children and Adults with Disabilities "Sunbeam" - Shumen celebrated its ten year anniversary. A rich musical program was prepared by the hosts. Part in it took graduates of the social establishment, and special invitees for the event: dancers from dance club "Fairy Dance" at the Youth Centre Shumen and children from the youth dance ensemble "Zvanche" at the Cultural Center Todor Petkov, Shumen.
In response to the special invitation of the...

Posted: 2009-07-31 02:22:05
Prev
|
1
|
2
|
3
|
4
|
5
|
6
|
7
|
8
|
9
|
10
|
Next
Pages: 10