Association "Shining Dawn" and the Municipality of Shumen held jointly another initiative for the people with mental disabilities: a karaoke party at Club Retro in the town of Shumen directed especially for boys from DVUI Lozevo.
Representatives of the Municipality of Shumen as organizers of the initiative were: Mrs. Simona Panosyan - Director of Social Work, Ms. Rumyana Racheva - Senior Health Expert, the Municipality of Shumen, and Mr. Kolev - Head of Social Policy, and others.
For the boys from...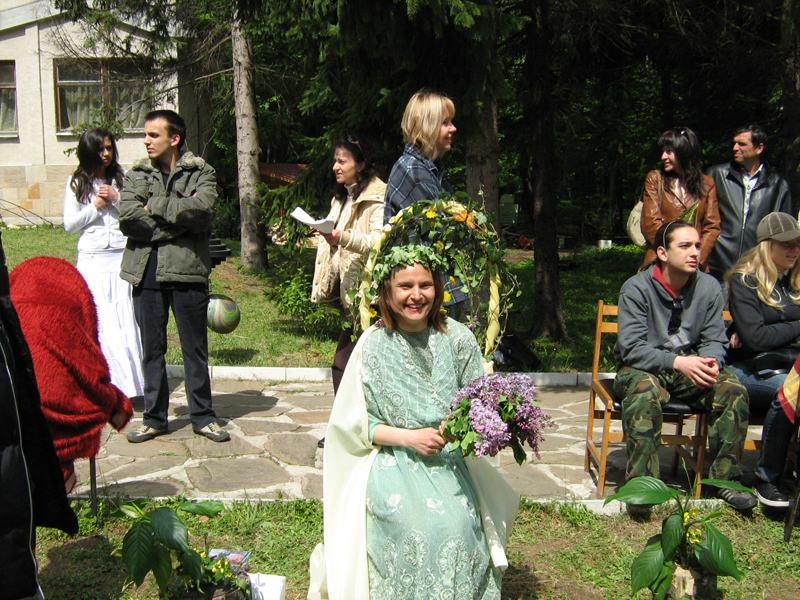 Майката - природа посрещна всички гости в своето зелено царство и остана да наблюдава от трона си...
On this bright Christian holiday just two years ago our members became godfathers of the boys from the home for adults with mental disabilities, Lozevo. This noble initiate gave the impetus that lead to the establishment of Association "Shining Dawn".
Therefore, by marking the day of St. George, we wanted to note this special day for the Association. Our dear guests were boys from the village DVUI Lozevo who had inspired us to start the series of charitable initiatives, continuing to this day.
Our holiday began with sporting...

Easter Charity Exhibition - Bazaar
Posted: 2009-07-31 02:06:04
Великденско настроение -членове на сдружение "СИЯЙНА ЗОРА"се готвят за изложбата.
"To Colour the Dreams and Resurrect Hope" 17-18 April, 2009Easter eggs, cards and various hand-made products were submitted for this year charity bazaar held on 17 and 18 April to Three Saints' Church at Crystal Square. Association "Shining Dawn" "is grateful to all citizens who provided artefacts for the charity bazaar and thus supported our work with people with mental disabilities. We thank all our members and supporters, who spared valuable time to help in the organization and conduct of the event! The funds raised...
Posted: 2009-07-31 02:02:29
Martenitzi
Posted: 2009-07-31 01:57:51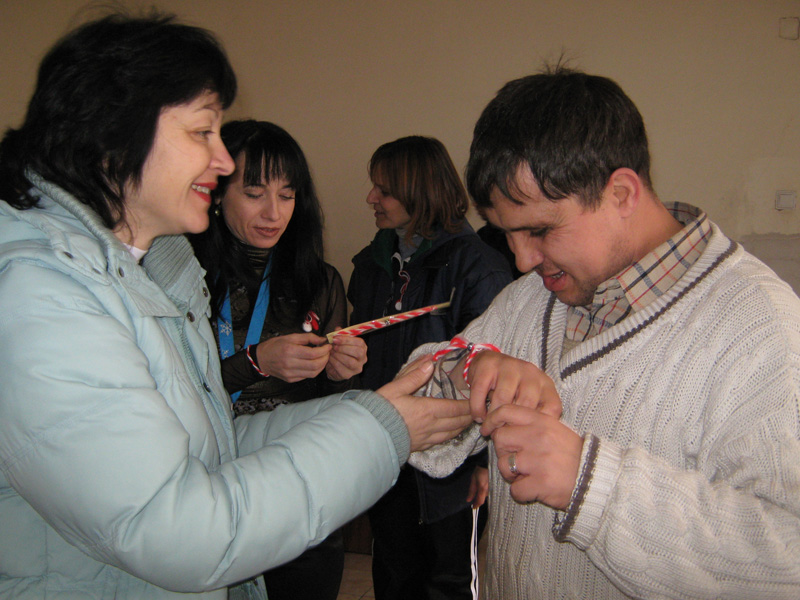 Наши членове закичиха с ръчно изработени мартеници всички домуващи дом Лозево
Our members decorated with handmade martenitzi all home residents at HOme Lozevo.
Association "Shining Dawn" donated 90 martenitzi to DVUI Lozevo to celebrate 1 March. The martenitzi were the work of designer Dilyana Teneva and were especially made to be handed to every one of the residents of the home.
More than 200 martenitzi hand-crafted by members of the association were donated this year to supporters and friends. Some of them were for the children from DDMUI "Kalinka" which got them a little early to...

Prev
|
1
|
2
|
3
|
4
|
5
|
6
|
7
|
8
|
9
|
10
|
Next
Pages: 10